Share good news. Ignite change.
In 1989, Omar Al-Bashir seized power in the Northeast African nation of Sudan, imposing a strict interpretation of Islamic law as a foundation of its government. In the ensuing years, Sudan became a safe harbor for militant Islamic groups, including Al-Qaeda, and was largely isolated from the international community.
Now, 30 years later, the government of Sudan has agreed to end Islamic law and officially separate religion and state.
The move comes weeks after a peace deal was reached between the Sudanese government and rebel forces from the Sudan People's Liberation Movement-North (SPLM-N) who have long been embattled in the nation's region of Darfur and elsewhere. SPLM-N has refused to sign any agreement that did not ensure a secular government for Sudan.
"For Sudan to become a democratic country where the rights of all citizens are enshrined, the constitution should be based on the principle of 'separation of religion and state,' in the absence of which the right to self-determination must be respected," asserted a documented sign by both Sudanese Prime Minister Abdalla Hamdok and Abdel-Aziz al-Hilu, a leader from SPLM-N.
The new separation of religion and state is a victory on many fronts. It helps ensure human rights while also bringing hope of a lasting end to the conflict in the Darfur region and promise of greater international cooperation.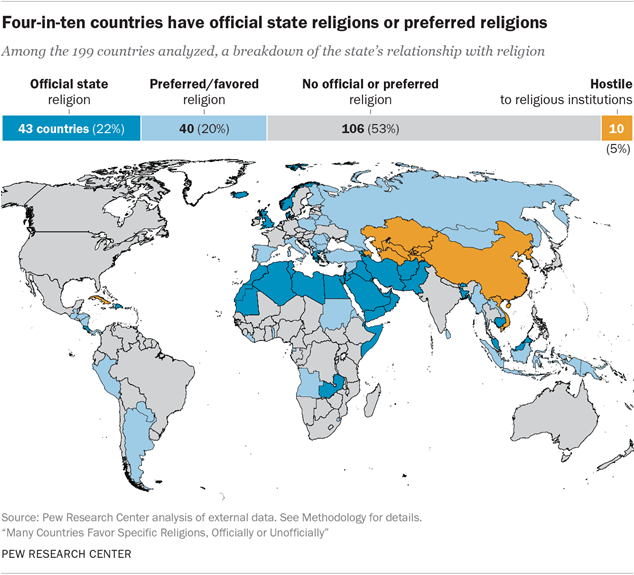 As of 2017, 22% of national governments around the world had an official state religion, while 20% had a preferred or favored religion and 10% were actively hostile to religious institutions. This left roughly 53% of government that was neutral toward religion, ensuring their citizens had the freedom to practice as they chose.
What more can we do to reduce religious conflict and help ensure freedom of – and freedom from – religion around the world?